belén dufraix

y andrés vargas, éste músico chileno más conocido por
http://todovargas.blogspot.com
y aquélla guapa economista chileno-española, andrés también da bien, oyes tú, y más cuando en vivo se vuelve más vivo, nos regalan, digo, esta y otras fotos.
on stage
esa noche, aluego, le vimos jamear, al vivo todo vargas, en el moe, eso que en alberto alcocer 32, casi al borde de paseo de la habana, lleva

dany.
you have to guess - on your left hand corner
dany

, el del moe, es el tron de lucía álvarez, que ahora se nos va a otra editorial donde le pagan mucho más, aunque aún mucho menos de lo que ella se merece, a lucía digo, que lo de dany ya he dicho que es la música y la revolución, bueno, esto de la revolución no lo había dicho. y que quede constancia, a

lucía

también le va lo d
e la revolución.
todo vargas nos acompaña a la salida del
moe
al moe fuimos con larrubia, elescriba y

miguel

, éste ingeniero de aviones, amigo de

belén

y

andrés

, y descubrimos que también de nuestro

benito

, el tron de

pamela

, la

parsons

de california, ahora en osuna, que ahora disfruta de su campo y su perra,

benito

, que pamela hace lo que puede - ella dice que le gusta también; oyes, ya me he enterado de lo de

benito

, hijo, plaza de residente, qué contentos estarán los caballos y las vacas de tony,

blair

, claro; nosotros también estamos muy contentos, ya me dejarás leer la carta de recomendación del inglés, y luego dicen que a la tercera no va la vencida, si es que no creemos en nada, ni en los ángeles ni las estrellas, total para saber lo del adn.
ya me he perdido otra vez. que iba diciendo que harto de aviones de combate, benito, padre, digo, no el hijo ni el otro avionero, miguel, que éste sigue entre motores y turbulencias. recordadme que le hable de lili, a miguel, ahora nerviosa, lili, claro, en medio de sus exámenes.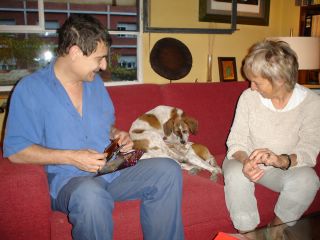 josé luis

, el de

arancha

, la de larri y el

tro

, también anda entre aviones, trabajando para el ny-ino
martin escorsese
y los de morena films, que son su patrón por aquí. los del airbus, tan francogermanos, le encargaron el video de promo de su nuevo supergigantecampeón, de los cielos, que el de la horchata, en madrid, está en la esquina de narváez con

jj

, creo.
bueno, a lo que iba, que los del

airbus

demandan su cosa a martin. y como la cosa debe ser de gran pastizarra, total pagamos a escote entre todos, nosotros también, que tenemos un cachito, bueno pues que martin dijo que sí, que vale. con las prisas se le olvidó decirles, a los mandas del airbus, que a él eso de volar, pues que no le va, y que en barco se tarda mucho y que con lo que le dan no cubre, así que va, pregunta quién hizo

asaltar los cielos

, le dicen que josé luis, que el otro, del programa de la tele que se lleva las pelis bajo el brazo, de noche o en fin de semana, que si no da vergüenza, pues que también, pero que, en fin, que si quería no quedar mal que les dijera a los de

morena

que mejor josé luis. yo del otro es que ni me acuerdo cómo se llama, oyes tú. tampoco creo que deba levantarme para mirarlo, no?
bueno, pues eso, que

martin

le dice a josé, oyes, que mira, que vayas, mires, me lo pones y me lo mandas. oyes, y no te olvides de saludarles en mi nombre. diles que mando recuerdos.
y como no hay mal quye por bien no venga, que el que no se consuela es porque no quiere, bueno, que como eso, pues que resulta que así ganamos todos. josé luis gana para el instituto italiano de

sam

y

bruno

y algo le quedará para comprarles pingüinos, y encima hacemos patria, que martin desde que le conoce se está pensando eso de los aviones, por acercarse por

madrid

a pegarse un banquetazo y una jartá de reír con el asaltante celestial

que tan bien

glimpsea en vidas ajenas, don

josé luis lópez linares

, y conocer a su señora esposa, si es que ahora, q
ue ya ha demostrado, la señora esposa, que es la que más sabe de benito, no, no el de los aviones amigo nuestro, sino el de los episodios nacionales, los académicos y los de canarias le dejan, a la señora esposa, aclaro para mastuerzos, dedicarse a sus labores en lugar de seguir pidiéndole conferencias para poetas. doña arantxa, enhorabuena por su cum laude.
oye josé, recuerda que tienes que llevarte a la lili y a su tron a ver a

fernando

, el alonso de los aviones, que este año parece que manda mucho. que los niños son muy listos, saben mucho de aviones, o eso creemos sus orgullosos padres, son muy cultos, a lo menos la lili, hablan idiomas y os harán quedar muy bien, a ti y a morena. y ellos hablan con fernando, por irse conociendo más que nada,que hay que mirar al futuro de los niños.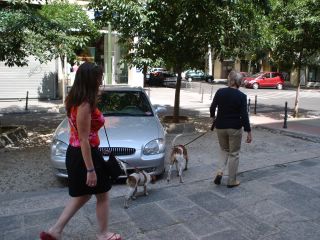 bueno, a lo que iba.
que

andrés

y belén nos llevaron la otra noche al

moe

. andrés, delicado y atento, como es él, quería ver una guitarra, que belén lleva dos semanas meneándolo de arriba abajo, de familia en familia y tiro porque me toca familia - y las familias ya se sabe cómo son, de aquella manera. yo creo que esto es cosa de la lista blanca, de los ortíz de zúñiga, mamá de

belén

.
making sure

ver guitarra, por darse el gusto y por asegurarnos de que la niña está bien.
el tío,

todo vargas

, el

andrés

de la

belén

, tiene facha. yo a los de morena les diría que le llamaran para un casting. el jodido se come la cámara, toca, canta y encima le gusta la gente y a la gente, y llena el escenario. el reverte también debiera echarle una ojeada, para cuando se atreva con los tahúres del mississipí.
bueno, que no sé por donde iba, me despido con cariño.